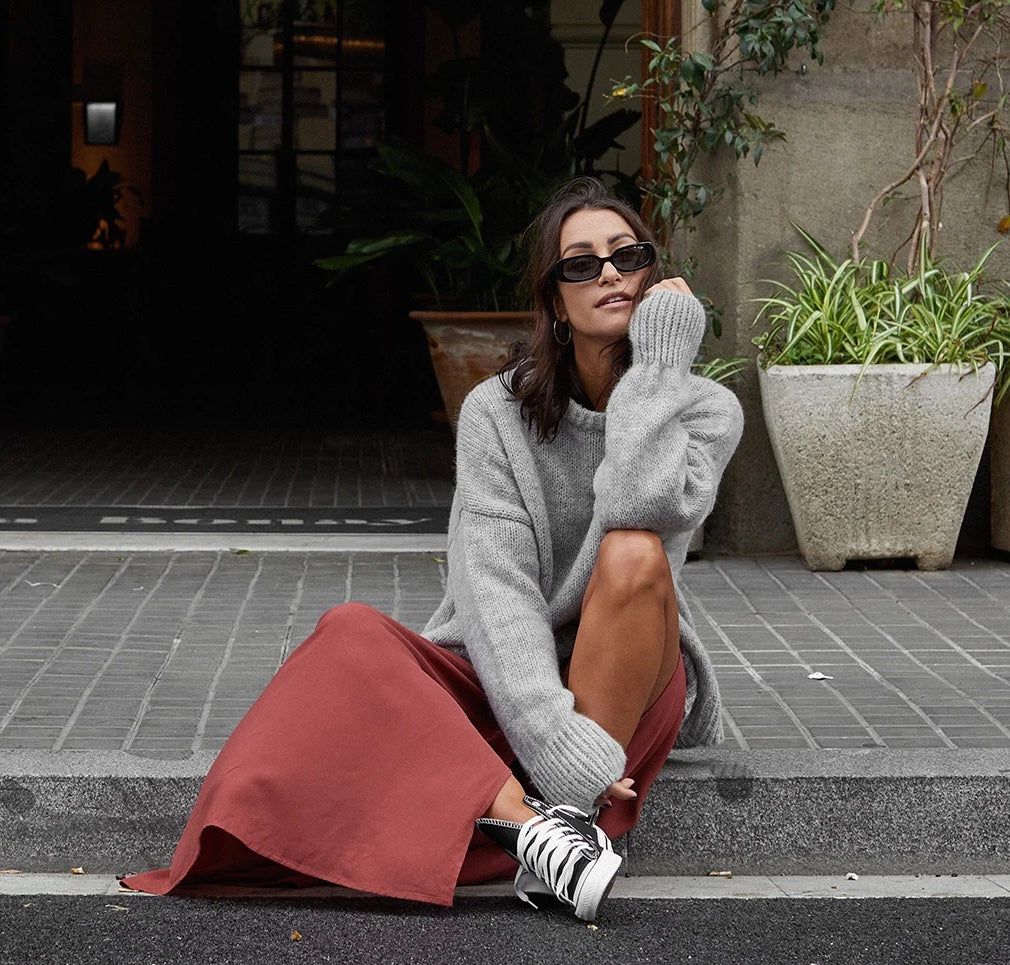 Maintain that forever-fresh allure.
Our fabrics
We source the finest materials available in Poland and across Europe (e.g. Italy, Greece, Netherlands). Below, we've compiled instructions on how to care for the garments we create for you.
Wool is a natural fiber of animal origin. Wool products are durable and elastic. They have exceptional thermal properties, providing comfort to use. Wool products do not require regular washing. Often it is enough to air them.

If you need to wash a wool product, wash it by hand in lukewarm water (max 30 degrees Celsius). Use a wool detergent. Do not wring out and do not twist. Rinsing should be done at the same temperature as washing. Dry flat at room temperature.

One way to restore the shape of a deformed wool product is to gently stretch it while it is wet and flat. We recommend folding sweaters into a cube. The use of hangers or clips can cause permanent deformation.

Wool has the natural property of pilling. Pills can be easily removed with a clothes shaver. To remove the pilling even more thoroughly, use a clothes roller at the end.

It is best to take a heavily soiled coat, sweater or jacket to a professional dry cleaner.
Viscose is a natural-origin fiber, specifically derived from cellulose obtained from wood, but the fiber itself results from chemical processes. Despite this, the material breathes exceptionally well and is skin-friendly. It doesn't cause allergies, absorbs moisture effectively, and is breathable. Viscose comes in a wide range of qualities. It's perfect for summer, providing comfort during heatwaves, but the thicker variants also work well in winter.

Viscose should be washed at low temperatures (max 30 degrees), either by hand or in a gentle cycle with low spin. It's advisable to turn the garment inside out. When drying, it's recommended to lay it flat to avoid distortion. Iron viscose at low or medium temperatures. A cotton cloth will prevent fading. Pay attention to whether the product can be tumble-dried; you can find this information on the care label.
Denim is a cotton fabric with a diagonal weave, created from twisted cotton yarn. It's especially used in the production of jeans. This material is known for its exceptional durability, but proper care is essential. Similar to wool, frequent washing of denim is not recommended. If a denim product needs to be washed, it should be done at a low temperature (up to 30 degrees Celsius).

When laundering denim, use cool water and avoid adding bleach or fabric softeners, as they could alter the fabric's color. It's advised to wash denim on the "inside" (reverse) side.
Cotton is a natural fabric, very soft and breathable. It also boasts high hygroscopicity, meaning it can absorb a certain amount of water vapor without feeling wet. There are various types of cotton (such as cretonne, muslin, percale, or velvet), each requiring individual care. Due to this, it's crucial to always pay attention to the care label with the manufacturer's recommendations. Natural fabrics tend to shrink. A cotton product can shrink even up to 6%. Such garments are best washed in a washing machine using a dedicated program, at a temperature not exceeding 40 degrees Celsius.

Fabric manufacturers often suggest laying them flat to dry, although distortions on cotton T-shirts can be easily ironed out. The recommended iron temperature for cotton is typically around 150-180 degrees Celsius.
Linen is a material that has accompanied humans for thousands of years. It possesses numerous positive qualities, including naturalness, durability, and high breathability. It's a fabric chosen by allergics and individuals who want to make conscious choices in harmony with the environment. When laundering linen, it's best to do so by hand using cool or lukewarm water, not exceeding 40 degrees Celsius. High temperatures can lead to faster fiber wear. Similar to wool, pulling, twisting, or scrubbing can cause damage and distortion. Drying on a flat surface is recommended.

Linen requires ironing at a high temperature, ranging from 180 to 200 degrees Celsius. Avoid using bleach and harsh chemical liquids.
Cupro, similar to viscose, is a material made from renewable natural resources. It's breathable, soft to the touch, and hygroscopic. It's also a kind of combination of silk and cotton. It drapes beautifully on the silhouette and is less prone to wrinkling compared to viscose. Washing recommendations depend on the fabric's finish, so it's worth checking the care label. Manufacturers usually recommend dry cleaning. If washing at home, it's advised to do so by hand using lukewarm water. Wet cupro significantly increases its weight, thus drying it flat is recommended.
Winter down clothing is highly valued for its excellent insulation properties. Our jackets and coats are made from high-quality goose down, providing exceptional wearing comfort. To enjoy these down products for a long time, it's important to follow the care label instructions. Down jackets can only be washed using the appropriate detergent. Washing should not be done too frequently and should take place in specialized dry cleaners. After each wash, the down loses its oily coating and its resilience decreases, which is why washing down products in a drum washing machine is not recommended.